​Welcome to the Reading Baseball Alumni Club website.
Please visit each page for lots of news, events, photos, stories, stats, and more
about Reading Baseball and its players from 1977 - 2013..
Pete Moscariello Ballpark Dedication Ceremony -- September17, 2016

Here is a summary of the celebration !
Saturday, September 17 was the most wonderful day for my family, Reading Baseball, and me. From 9:30 am to 4:00 pm, it was a celebration of what we all did together for 35 years. My deepest gratitude to all my alumni players - those who attended the event and those who were not able to. Here is a summary.
The weather was picture-perfect, the field was the most spectacularly groomed it has ever been, and, I would estimate, 200 people, including 70 of my beloved alumni, were in attendance. The event was a special day for, as my brother Mike said, two intertwining families - the Reading Baseball Family and the Moscariello Family.
My mother, brother, wife, daughter, and son-in-law (to be soon) and I all had a great day. I really, really enjoyed before and after the actual event, talking to so many people that have been important to me in my career and life. How wonderful it was to see my HS coaches, John Hollingsworth and Gil Congdon, to see old friends, teammates, and colleagues, and to re-connect with Reading Baseball parents (there were a lot of Reading Baseball parents there which was much appreciated). And, I loved it, especially, when a former player would introduce me to his wife, child, or fiancee and say, "I want you to meet Coach."
Jeff Pierce and his team (Sheila Tully, Roy Sletterink, Joe D'Alessio) organized and orchestrated the event and did a truly amazing job, attending to every little detail perfectly. Jeff began the ceremony by speaking eloquently about the history of the field, about Newt Morton (the man), about and fabulous field improvements, and about how Reading Babe Ruth and RMHS Baseball collaborated so well over the years. Then two of my former players, Joe Picano '81 and Jim Lucci '85, unveiled the spectacular field sign designed by Jeff, created by Ann DiCicco, and installed by Pete Seibold.
Next, my brother, Mike, gave the most beautiful speech about our parents. Mike is awesome - he spoke from the heart with humor and emotion (and no notes!) and gave the perfect tribute to our parents. I lost it when he talked about us all "holding onto the rope for each other." Mike always knows just the right thing to say. Then, my beautiful daughter, Lea, cut the ribbon to dedicate the ballpark seats in honor of Sully and Irene Moscariello.
As we all moved and settled into the area near the third base line and foul territory, we were treated to a terrific rendition of our National Anthem sung by Gary d'Entremont's wife, Nicole, and daughter, Eva. The crowd love them!
Next, attention was turned toward the first base dugout, which was dedicated in loving memory of alumnus Steve Sample. Dave Sample, Steve's father, put on Steve's #21 game jersey and spoke about his son in a heartwarming, moving tribute. Cole Tully and Corey DiLoreto then cut the ribbons at the dugout entrances to complete that dedication.
Then it was my turn to speak next. I really looked forward to this because it was my opportunity to say thank you to everyone who has contributed to Reading Baseball in any way throughout my career, to talk about my family, to tell memories and stories about our teams, and, most of all, to thank and talk fondly about my players.
I promised the crowd a "somewhat emotional, probably too long speech, filled with lame jokes and statistics..... so buckle up!". I delivered my promise on all accounts! I spent most of my speech thanking people who deserved to be thanked: parents, fans, friends, AD's, my teaching and coaching colleagues, DPW, local newspapers, and more. I got emotional when I talked about my family and thanked them. I did get to tell one funny story each about my mom and my dad, and that helped my get through. I certainly thanked our coaches, including Coaches Nelson, Morrison, Gray, Lucci, Zerfas, Farris, and Bryson, all of whom were there. Also I thanked everyone who donated to field improvements and especially to the seats for my parents, the scoreboard sign, and field sign. The field sign shows the "major" donors, which includes so many of you, your parents, and your teams. Yet I know so many of you also made significant contributions and I thank you for that. Your names appeared on the program at the event (I will eventually scan that program and post it here).
My favorite part of the speech was when I got to talk, with pride, about our great teams and players and some special memories that occurred on this very field. If you want to read the entire speech,
click here.
But I would like to print here just the ending part of the speech for you all to see:
"I loved every minute of the 35 years I coached and am so grateful for every day I had on the field with my players.
Someone asked me recently what I thought was the number one reason for my coaching success. My answer was that, 'I just flat out loved my players. Championships were nice, but the relationships we built then, and continue now, were much more important to me. As much as I cared about winning, I cared much more about building winners for life, in each of my players. As I look at the 70 or more of my players in the audience and see the husbands, fathers, and men they have become, then I know that I did a pretty good job.' "
"Thank you from the bottom of my heart to everyone who attended the event but also to anyone who has intersected my life in any way, at any time. Please know that each of you have helped make me a better coach and a better person. I humbly accept the recognition, but enthusiastically share it with my family, friends, player's parents, coaches, and players - because we all did this together!"
---------------------------------------------------------------------------------------------------------------------------------------------------------
At the conclusion of my speech, two former players and longtime coaches and friends, Scott Farris '85 and Jason Zerfas '99, unveiled the fabulous scoreboard sign.
I think my favorite part of the event happened next when we gathered up all the alumni players and had them go to the scoreboard in left field for a group photo. The surprise is that I had gotten hold of the classic white game jerseys that most of you had worn in their RMHS days (thanks, Tom Zaya and Ted Bryson for getting the shirts for us). So you see a photo of all our guys, in the uniforms and on the field, where they played so well
. I loved that because when I addressed the group, for those few minutes, I felt like I was coaching my players and team one more time.
Next up, we hosted a "Kids Game" where children of our alumni players and friends got to play ball on the newly dedicated field. What fun it was to see fathers and sons/daughters playing together on the pristine field.
And then the Alumni Game. We had 40 guys play (I had put out emails and FB messages to push you guys to get 30 players, and as, usual, you exceeded my expectations and created our biggest alumni game ever! Coach Bryson announced the name and YOG of each player as they ran out and lined up on the 1st base line. Ace kindly saved me for last, so I got to run the whole length of the line and fist bump with every player, another special moment for me.
The game itself was terrific, with hitting, defense, lots of laughs, and great camaraderie. What a thrill it was for me to watch players, from five different decades, enjoy and share their common experiences from their days with Reading Baseball.
Here is a complete roster of guys who played.
75: Ken Hollingsworth; 79: Jack Marlin; 81: Joe Picano; 82: Greg Bernard; 83 Jon Vedder; 84: John Barrett; 85: Jim Lucci, Scott Farris; 87: Gary d'Entremont; 89: Darnell Canada, Rich Foohey;
90: Joe Miller;
91: Franny McHugh; 92; Pete McHugh; 94: Chris Foley, Tom Fratto; 98: Dan Foley; 99: Jason Zerfas; 02: Kevin Donahue, Mark DeMasse; Rob DeMoura; 03: Chris Dolan, Dan Marshall; 04: Dennis DiCicco; Mark Andrick; 05: Mike DiCicco, Chris Zanni; Tim Melanson; 08 Tommy DeMasse; 10: Andrew Gray; 11: Jeff Covitz, Nick Scali, Zack Driscoll; Adam Halley; 12: Anthony DeSimone; Mac Cook, Paul Andrick, Drew Zaccardi; 14: Nick Clivio; 16: Dan Sletterink; 71: Coach Mosc
There were certainly plenty of alumni there who may not have played in the game.
Here is where I am sure I will miss someone, but this is who I remember seeing; thanks for being there Mike Moscariello '77, George Fennelly '78, Pete Collins '79, Steve Palladino '82, Dave Gray '83, Jim Burditt '84, John Macaluso '86 , Tom Zaya '87, Paul Sumner '91, Jim Murphy '93, Dan Robinson '94, Coley Foley '94, Chris Donegan '94, John Feudo '95, Anthony Caporale '95, Josh Driscoll '95, Mike Thompson '96, Ryan Carroll '98, Dennis Gramolini '99, Tim Bryant '01, Steve Gath '03, Eric Sample '04, Brian Catanzano '08, Sean McGoldrick '08, Derek Strukel '09, Jeff Wyer '09, Ryan Carter '10. Also it was great to see my high school teammates and forever friends, John O'Keefe and John Brenton. Thanks very much, to all of you, for coming. I was thrilled that each of you approached me with kind word and a hug.
We played all afternoon, until 4:00, and finally wrapped up a day I will never forget. I will hold dear forever your handshakes and hugs, your kind words and congratulations, and especially seeing all of you -the players whom I love, on the field I love- enjoying a day to honor your old coach. I can't thank you enough.
A couple notes:
A complete set of professional, beautiful photos were taken by Michelle Kramer (son, Mac is a 2013 alumnus). Michelle captured the complete day by taking over 400 pictures which can be viewed at
https://rmhsbaseballalumni.shutterfly.com/
Reading Baseball Alumni Club - Boston Red Sox Night -- September 12, 2016
Thank you to Steve Palladino '82 who organized and orchestrated our first ever Reading Baseball Alumni Night at the Boston Red Sox on Sept. 12. In addition to Steve, his son Kevin, and Steve's dad, Rich Foohey '89, Dan Foley '98 plus his wife and two children, Mike Beatty '06, Coach and Mrs. Bryson, and myself enjoyed a beautiful late summer night at Fenway. The Sox beat the Orioles, 12-2, and we saw David Ortiz hit a homer. You can see a couple photos here and more on our website. Steve says he will do this again next year and hopes we get even more alumni to attend. Thanks, Steve, who is a great alumnus and friend.
Reading Baseball Alumni Club Cooperstown Weekend 2016
Cooperstown 2016 was another fabulous Reading Baseball Alumni Club event as 18 players, 3 children, and one wife made the trip to the Mecca of baseball. In addition to the Doubleheader at Doubleday, guys also got to visit the Hall of Fame, memorabilia shops, share some meals together, and relax at their hotels or campgrounds.

Since quite a few of our regulars (e.g., Farris, Driscoll, Zerfas, Feudo, Macaluso, DeMoura, Barrett, DeMasse x 3) were not able to make it, we were concerned that we would not have enough guys to make the trip happen. But we were determined not to cancel two years in a row, so some of our guys did some recruiting. Matt Morrison brought two teammates from the adult league in which he plays in Woburn- Josh Clark and Pat Maher. Both guys are Woburn Tanners (yeah, I know) but thanks to them, we got our player count to 17. The crucial 18th player was Jackson Farrelli; again not an alumnus but nephew of alumnus Pete Collins. Jackson has actually played with us a couple other times so he is a virtual regular now.

We had several players at their first Cooperstown alumni games, returning to Doubleday Field for the first time since their RMHS team played Lexington there. Adam Halley '11, Nick Scali '11, Anthony DeSimone '12, Mac Cook '12, Chris Dolan '03, Dan Marshall '03, and Steve Gath '03 were all first timers and provided youth, fresh legs, and phenomenal play. A special treat was to see first-time player Bob Lucci '87, brother of Coop regular, Jim.

Alex Kozlowski, co-captain in '07 made his second appearance; Dan Foley '98 is a fixture (he was joined by his wife, Melissa, and kids Lucy and Sam); Jim Lucci '85 comes every year, as does Jon Vedder '83 who brought his son, Ray; Pete Collins '79 is another never-miss guy; Matt Morrison, our 8-year JV coach and now Asst. Varsity coach at Woburn and Coach Mosc rounded out the 18.

Guys came to Cooperstown anywhere from Friday afternoon to Saturday morning and all were there well prior to the 1:30 game time to warm up on a cloudy 75 degree day. Team captains were designated – Pete Collins for the Red Team and Jim Lucci for the Gray Team. Looch conducted a spirited pre-game infield/outfield practice for both clubs. I have always been proud of the caliber of play we produce at these games- we always have great hitting and decent fielding. But this year was amazing. Since we had 13 guys in their 20's or 30's, several of whom are still playing, there was not only great hitting, but spectacular defense, and guys running the bases like we'd never seen before. It really was a terrific show.

The Red Team was the home team and the Gray Team batted first. Now, it is tough to recall details from 18 innings, 46 runs, and about 100 hits. But we do know that Red slowly built a 3-0 lead and Gray chipped away to tie it in the top of the 8th. In the bottom of the 8th, Red got a leadoff double from Steve Gath (I think it was Steve). Chris Dolan, always the team player, tried to hit to the right side. After fouling one to right, he hit one up the middle for a single. Gath rounded third and looked to the 3rd base coach (who was not there) and guys yelling "Go" and "Stop" from the dugout were no help. Gath continued but Nick Scali uncorked a great throw to catcher Jim Lucci who deftly applied the tag. But just when it looked like an opportunity was lost, Mac Cook blasted a 2-run homer into the right field bleachers for a 5-3 lead. Pitcher Matt Morrison finished his complete game gem, putting down the Grays in the 9th and yielding the fewest runs in alumni game history.

Team Red was feeling pretty good about their victory and had each team member sign a game ball to present to the Grayss in a derisive manner. But the Grays would have the last laugh as they came out with a vengeance after the 30-minute intermission.

Here is where game details are foggy, but I believe the Reds took an early small lead. But Team Gray, in the second inning, scored 11 runs. The first 9 men up each recorded a hit (I was catching and remember catching just a few balls outside of the strike zone while every hittable pitch was smoked. I think there was one single and eight doubles in that stretch!).

Team Gray continued the onslaught and showed no mercy as they compiled an alumni game record 27 runs. The Reds more than doubled their first game output with 11 runs, but they still list by a couple touchdown and 2-point conversions.

Here is what I do remember:
The umpires' average age seemed to be 83, but they are good guys who have worked not just our alumni games, but some Reading-Lexington games. Did I mention our record vs Lexington in Coop was 12-5?

A sizeable crowd watched the second game. People come by Doubleday just to see the field that Ruth, Aaron, Mays, and Williams played on, and the fans tend to stay if the play looks good. There were some vocal fans who cheered big hits and nice plays, but also heckled any mistakes we made.

Here are notes about each player:

Pete Collins '79 played Little League ball for my dad, played for me in Pony League, played for me on the Reading Freshman Team in '76, and then on my first varsity teams. So I have had the pleasure of watching his beautiful lefty swing for a long time! He was the oldest alumnus, but he doesn't play like it. He still has his sweet swing that he used to drive hits to RF, and he plays the outfield with confidence and style, showing remarkable range and pulling in any fly ball that comes his way.

Jon Vedder '83 just doesn't make outs. He fouls off pitches in the batter's box or down the line and just when he looks vulnerable, he slaps base hits to all fields. One time, he had two strikes on him and he hit a ball that was a foot outside on a line to left field. Guys marvel at his bat control and how he plays the outfield flawlessly with his long, graceful, strides. V is a Coop regular for us and it is a joy to watch him play.

Jim Lucci '85 looks and plays like one of the 20-year olds! He plays the infield like the D-1 college player he way, he catches like a natural (he made a nice play to catch a throw on one hop and apply a sweep tag to nail a runner at the plate and he also caught a foul pop-up like he does it for a living). At bat, he hits single and doubles all day long and hustles on the bases. Looch instills an energy and joy for playing that is contagious. His enthusiasm and humor helps make the trip a fun event.

By the way, V, Looch, Matt Morrison, and Dan Foley combined on a defensive play dear to this coach's heart. Team Red had Chris Dolan on first and Jackson Farrelli on third, when Dolan broke early (the #1 play) and intentionally fell down (in his version if the 2nd and 3rd fall down play). Pitcher Matt calmly stepped off and threw to 2nd baseman Lucci who ran hard at Dolan. 1st baseman V who called "Now" (maybe) and Looch tossed to him. At that time, Jackson broke for the plate. V quickly tagged out Dolan and then wheeled and threw to catcher Foley who made a nice tag for the out – a double play, just like these guys practiced it in '85, '83' '98 !!!

Bob Lucci '87, as we said before, made his first trip, coming up from the Philly area. Bob was a brilliant lefty pitcher for us who once struck out 17 in a six-inning game and had a fine career at Bentley. But now, he was here to see what he could do with the bat. In his first time up, he hit a ball that landed between the pitcher and catcher for an infield hit. Good-natured sneering ensued. But next time, Bob roped a single to right and ended up 4 for 4 in Game One and about the same in Game Two. This prompted me to issue and apology to Bob for not batting him in the #3 spot in 1987! The players rewarded Bob by selecting as Outstanding Offensive Player. Moreover, Bobby's wit and humor, often directed at his brother, kept us laughing and enjoying the day.

Dan Foley '98 is as good an all-around player as we see in these games. He is an Alumni Five Tool Player! He played his usual excellent infield defense and caught a few innings as well. One of the reasons I like to catch is because I get to talk to players when they come to bat. Dan typically will say how he is likely to make an out (even though his Coop lifetime average is about .800 with a few homers). I say, I see a typical Foley double in the gap coming up. Next swing - double in the gap! I don't think anyone finds more joy in playing the game than Dan. It was also cool that his fabulous wife, Melissa, and kids got to see him play so well.

In 2003 our team went 18-1 and averaged 9.1 runs per game. Three of the reasons for that were Chris Dolan, Dan Marshall, and Steve Gath, all in their first Coop Alumni Games.
It was great to re-connect with Chris when he came to the 2015 Alumni Game at Morton, and we were glad he came to Doubleday. Chris is an excellent all-around player then and now. The second batter of the game hit a hard ground ball to Chris' right at 3b; Chris backhanded the ball confidently and fired to first. Looked like 2003! And Chris hit the ball well with a bunch of singles and doubles for the day. Also, congratulations to Chris who will be married in September 2017.

Dan Marshall holds the RMHS single-season record for hits with 33, and if you add in his Coop hits, he would have about 43! Showing adult power, he had several extra base hits, including a ball that hit a foot from the top of the fence in right center. It is fun to watch Dan hit, but a thrill to watch him run. He scored from first on a double, showing speed reminiscent of 2003 (he is #2 in career stolen bases) and never before seen in an Alumni Game. And he catches balls in the outfield that were intended to be extra base hits.

You don't have to be a Hall of Famer to play in Cooperstown. Well, Steve Gath is one and played like one on Doubleday Field. The first batter of the day hit a ground ball to Gatho's left; he gauged it, timed it, ate it up, and fired to first just like he did when he started every game for four years at Bentley. And then there is the hitting- ropes to left, doubles in the gaps, bombs off the fence. Steve was just born to be a baseball player and I would gladly pay to watch Steve play. Steve, like all the guys at these games, manages to be even a better person than player.

Alex Kozlowski '07 was co-captain of our 18-2 team in 2007. He was an All-League first baseman and still plays like one! In his second Cooperstown alumni appearance, he picked up where he left off last year, banging out hits. He was a doubles machine, hitting four in four consecutive at bats in Game Two. As fine a gentleman as we have known, Koz adds class and humble confidence to our group.

Nick Scali '11, in first alumni games, was very, very impressive. He hit the ball well, with some extra base hits, and he shone in his specialty, tracking down fly balls with his amazing speed. Several balls that would have usually been alumni hits, went to die in Nick's glove. He also has a great arm and pegged out a runner at the plate, maybe the first such play in alumni game history. Players voted Nick as the Outstanding Defensive Player for the weekend.

Adam Halley '11 pitched for us in 2011, continues to pitch in adult leagues, and is RMHS Varsity Pitching Coach. Nobody loves to pitch more than Adam. Thank goodness, because we needed him to pitch both games of the doubleheader! He pitched 9 complete in Game One and came right back to pitch about 7 more in the nightcap. After about 15 innings I asked him how his arm felt and he said, "Great!". That's Adam, for you. Adam can swing the bat, too, and hit the ball hard all day including a bomb double to CF. He was awarded the Outstanding Pitcher Award for his tireless work on the mound.

Mac Cook '12 was one of Reading greatest all-time hitters and a 3-year starter. His senior year stats rank among the best we've ever seen. So it was no surprise when the big left handed hitter smacked the ball hard day. He is a pull hitter who hits it scarily hard to right and he struck the big blow of the day with his long 2-run homer into the right field bleachers to win Game One. It was great to have Mac with us and we hope he joins us again next year.

Anthony DeSimone '12 is as good an athlete as we have had in Reading Baseball. Every day at practice, we would see him do something amazing in the outfield (such as the time he went to catch a low line drive but his glove fell off so he just caught it barehanded!). At Cooperstown, Anthony showed his skills with both excellent hitting and defense. He made one of the best plays of the day with a diving/sliding catch in CF and he slammed out a variety of singles and doubles. He is a class act in all regards.

Matt Morrison is a regular at our Cooperstown games and we can always count on him for superb all-around play. Matt can play the infield, outfield (he made a nice running, backhanded catch of a fly ball in the left field corner), catch and pitch. Thus year, he pitched about 15 innings, winning the first game as previously noted, and pitching 6 more in the second game. Whereas the first game was a neat, low-pitch complete game, high-scoring Game Two saw Matt's total pitches thrown soar (understand that pitchers are instructed to lay it in there- fastballs only at BP speed so guys can hit) probably to 300 for the day! Matt (like Adam Halley) didn't complain; since we had a scarcity of pitchers on the roster, he just kept throwing to help both teams. Pitch count, shmitch count! Oh, and Matt can hit. He has had a few homers at Doubleday in the past; this year he hit singles and doubles and rarely made an out.

Jackson Farrelli is a kid we would have loved to have had at Reading Baseball. He is big, strong, fast, and athletic. He covers the outfield with great range and uncorked a couple nice throws, too. At bat, he is always dangerous as he hits the ball so darn hard: triple to the left field corner, doubles to both gaps, singles through the infield. The reason we most would have liked to coach him is that he is a terrific kid.

Josh Clark and Pat Maher, along with Jackson, saved the day, as these three "non-alumni" enabled us to play nine on nine. Josh and Pat were highly recommended by Matt, and that was good enough for us to welcome these two Woburn Tanners into our exclusive club. And they are excellent players and great guys! I enjoyed Clarkie's sense of humor and spirit and enjoyed talking baseball history with Pat.

Josh started slow but came on strong with some big hits, including one off the left field fence that just missed going out. He was versatile in the field, playing both infield and outfield. He made the play of the day in the outfield, making a full-extension diving catch of a line drive that drew cheers and applause from the crowd. One fan even sang out the Sports Center theme to indicate Josh's catch would be highlighted on ESPN!

Pat Maher is Woburn HS Freshman Coach at age 23 and a guy who loves to play, coach, and talk about baseball. He had an impressive doubleheader with a bunch of hits, probably 20 putouts in left field (Pat made catches to his left and right and hauled in a few in the warning track), and pitched the last couple innings for Team Red.

Coach Mosc '71 was thrilled to play alongside the players he loves. I was happy that I stuck in a few hits and was able to catch the entire doubleheader for the Red team.

After an injury-free doubleheader, guys met up at the Cooperstown Inn and Suites at the Ballpark where we rented a function room and brought in pizza and beverage. Thus was a fun night and perfect way to end a great day as players from FIVE DIFFERENT DECADES perused the Reading Baerball stats and records books and talked about the games, their high school memories, and their current lives. What a thrill and proud time it was for me to watch a player from the 70's bond with one from the 2010's over their common experiences- Reading Baseball. It made me think, "this doesn't happen for anyone, anywhere else"; it made me feel wonderful about our most special fraternity.

Many thanks to all the players (and family members who came). Thanks for the joy of playing alongside you guys in a most revered ballpark. I hope you guys know how lucky I consider myself to have been your coach, how grateful I am that you all choose to continue to include me in your lives, and how proud I am of every one of you- from your playing days then to your alumni days today.

Coach Mosc



Photos from Doubleday Field in no particular order and with no captions!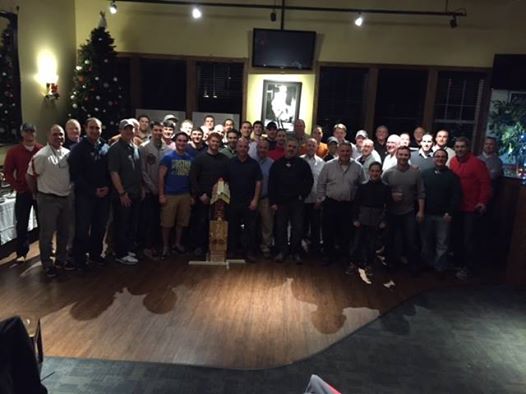 Reading Baseball Alumni Club Dinner and Reunion
January 15, 2016
Our annual Reading Baseball alumni dinner was billed this year as "Alumni Club Dinner and Reunion". And according to the attendance (46 guys – an all-time high) and feedback I received from guys in attendance, this was our best event ever!

The forty-six arrived at The Great American Tavern on Friday, January 15 for a night of food, drink, laughs, Reading Baseball memories, and best of all, great camaraderie.
We had players from 1977 all the way to 2012 in attendance- that's players from five different decades! We were especially pleased that some of our youngest alumni were there, as nine players from 2010-2012 were there.

The GAT is the perfect venue as they provide a large private room with its own bar, table seating, and plenty of room to mingle. In addition, they have a projection screen that we utilized to show old game videos (on the VCR!)

Videos of several different games ran all night long and were well received. Particularly interesting games included a 1991 tournament game at Morton Field vs Tewksbury. Players at the dinner who played in that classic game were tri-captains Paul Sumner and Franny McHugh and Pete McHugh who went 11-2 that year on the mound. Alumni enjoyed watching Reading defend a 1st and 3rd play which featured catcher Franny pancaking the Tewksbury runner who attempted to cross "Franny's plate."

Another popular game was a 1998 tourney game, also against Tewksbury. In this one, The Redmen led after 6 1/2 innings only to have Reading tie it in the bottom of the 7th. Tewsbury again took a one-run lead in the 9th but Reading tied it in dramatic fashion. Once more time, Tewksbury took the lead in the 12th, this time by two runs. Yet undaunted, Reading came back on some clutch hitting, including the walk-off winner by Gus Saggese. Players at the dinner who played in that game were Jason Zerfas, co-captain Dan Foley, who drew a key walk in the 12th, and winning pitcher Ryan Carroll who pitched all 12 innings to earn the win. That's right- twelve! Pitch counts, shmitch counts!

A new feature was a presentation created and presented by Coach Mosc that included a Powerpoint with alumni highlights from the past year. We showed photos from the Reading Baseball Family Night at the Lowell Spinners, lots of great photos (thanks Michelle Kramer) from the Alumni Game at Morton Field, a feature on our alumni who are coaching college or high school baseball, and a slide show of alumni who are playing amateur baseball – college, Intercity League, Cape Cod League, North Shore league, etc.

I am trying to post the Powerpoint on this site, but having difficulty. If you would like to see it (I think you will really like it, I can email it to you: petemosc@gmail.com)

A special and important part of the presentation was to remember the five alumni whom we have lost. We spoke about each of our Reading Baseball Brothers and remembered them fondly. I know I think about each of them a lot; I bet you do, too. Please continue to remember David Beers '79, Paul Ruff '82, Russell Hunt '00, Andy Curto '77, Steve Sample '07.

We showed a video clip of alumnus Bob Macaluso '82 being presented as the new Head Baseball Coach at Cal State University Bakersfield. The crowd loved seeing Maco doing so well.
Next, we honored Brian O'Neill '83 and Tim Bryant '01, Reading Baseball players (and other sports) who were inducted into the RMHS Athletic Hall of Fame in November.

We showed photos of the new dugouts at Morton Field and the seating pavilion that will honor Sully and Irene Moscariello for their longtime support of Reading Baseball where they sat on the first base out-of-play line for 35 years. And we showed a photo of the proposed signage (funding still needed!) that will appear on the scoreboard, proclaiming Newt Morton Field and Pete Moscariello Ballpark.

We showed a video and photo about the "500 Win Indian" that was constructed by the legendary Hal Croft to commemorate Coach Mosc's 500th victory and our mutual infatuation with Seinfeld. Jonathan Rosenthal '02 (as are several alumni) is a Seinfeld fanatic who was given the masterpiece and will proudly display this piece of art in his new home in Stoneham.

If you watch the Powerpoint, you will see, toward the end, some miscellaneous photos of players, teams, or moments. That was my attempt to include a photo and caption of each player who attended the dinner. Almost got everyone!

We previewed some events for 2016 which will include another Reading Baseball Family Night at the Lowell Spinners, a local alumni game at Morton (we hope to make that a family event with a cookout and a kid's game), and a doubleheader on Doubleday Field in Cooperstown on July 30. We hope you will attend those events – please let me know if you are interested in Cooperstown. Last year we had to cancel because of lack of numbers; this year we have to make it work!

At the end of the presentation, we had a contest where alumni gained "points" for doing things such as being a team captain, playing for Jeff Nelson, or playing in alumni games in Cooperstown. The winners got their choice of Reading Baseball Alumni hat or t-shirt.

We had on display several scrapbooks from selected years. Those are always a big hit as guys enjoy seeing themselves and teammates in photos and print from years ago. We also brought a notebook with complete stats packages from each year 1977-2013 and put out display boards of interesting team achievements over 35 years. If you have not seen those yet, check them out on this website by clicking on the Stats and Records tab. Some really good stuff.

Jason Zerfas '99 suggested that we honor the 1996 Division II State Championship team on its 20-year anniversary. So the Powerpoint includes some photos, stats, and memories from that incredible team. Again, see the Powerpoint to view how amazing that club and its players were.
We also showed the 1996 state championship game where Reading beat undefeated Auburn, 7-0. It was awesome that six players from that team came to the dinner and stayed for the entire game video (until nearly midnight!) and enjoyed sharing memories, telling stories (some of them I heard for the first time and wish I did not know!!), and enjoying each other and the special season they had.

Thanks 1996 guys who came, all seniors in '96, were Steve Langone (cpt), David Pizzotti (cpt), Jeremy Purington, Scott Reinold, Chris Smith (cpt), Mike Thompson.

Okay, so here is the complete list of guys who attended, as you will see in the photo:

1977: Mike Moscariello
1979: Pete Collins
1981: Joe Picano
1982: Greg Bernard
1985: Scott Farris, Jim Lucci
1987: Dave Johnson, Tom Zaya
1988: Chris Curley
1989: Darnell Canada, Rich Foohey
1991: Franny McHugh, Paul Sumner (Paul's son, Tommy, was there, too!)
1992: Pete McHugh
1994: Dave Zaya
1995: Josh Driscoll, John Feudo
1996: Steve Langone, David Pizzotti, Jeremy Purington, Scott Reinold, Chris Smith, Mike Thompson
1998: Ryan Carroll, Dan Foley
1999: Jason Zerfas
2002: Mark DeMasse, Mike Hurley, Mike Ottariano, Jonathan Rosenthal
2007: Alex Kozlowski
2008: Tommy DeMasse
2010: Andrew Gray
2011: Jeff Covitz, Adam Halley, Nick Scali, Mark Sheehan
2012: Greg Altobello, Mac Cook, Anthony DeSimone, Drew Zaccardi
Coaches: Ted "Ace Bryson, Gil Congdon (RMHS Head Baseball Coach 1969-1976), Coach Mosc
Special Guest : John Halsey – Reading Baseball supporter, benefactor, parent, friend

I want to thank everyone for coming and making this a memorable event. We look forward to our Reading Baseball Alumni Club Dinner & Reunion in 2017. Maybe we will recognize and feature our "anniversary" teams from 1977, 1987, 1997, and 2007.
I think you guys know how much my (our – as I speak for all your coaches) players mean to me and how grateful I am that you guys are willing to stay in touch and continue our friendship, whether it be for 5, 10, or 40 years!

I will close with something that I posted on Facebook :

Monday Morning Motivator by Personal Best -- Building Champions
We held our annual Reading Baseball Alumni Club Dinner and Reunion Friday night at Great American Tavern in North Reading. Over 40 guys whom I had the privilege of coaching from 1977 to 2013 came to enjoy food, drink, memories, and camaraderie. It was a fantastic evening, for sure.
During the event, we paid tribute to the 1996 state championship team on their 20th anniversary. We also made note of the many league championship teams that players and coaches built together.
At one point, I took a step back and observed these men talking to each other - maybe about a practice or game from their playing days, but much more likely about their families, their careers, their lives. That's when I understood that as much as we thought it was important to build championships, it was much more important to build CHAMPIONS. And I think that's what our coaching staff did so well - we helped our players learn essential skills and attitudes that made them CHAMPIONS in their college academics, in their professional careers, in their community service, and as husbands, fathers, and men of great character. Saying I am proud of my former players doesn't even begin to express how I feel about them.
--------------------------------------------------------------------------------------------------------------------------------------------------------
Take care of yourselves and your families, and hope to see you soon. Go Pats. Oh … I forgot.

Coach Mosc



---